Dieselcraft Cyclone Series Oil Centrifuges
for Engine Oil, Waste Vegetable Oil (WVO) and Biodiesel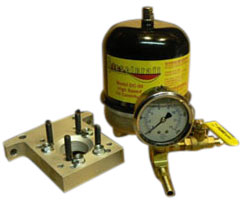 Model OC-50 Centrifuge
Flow rate: 7 Litres per minute (1.8 GPM) or 420 Litres per hour (108 Gph)
Recommended approx 4 passes for cleaner oil
Measures: 140mm Diameter x 250mm Tall
Supplied Universal mounting plate is 6" wide x 6" long with a radius to match the inside of a 55 gallon open head drum. With 1 1/4 NPT female thread for affixing the return line or can be used to mount the plate with the use of a threaded nipple.
Rotor holding capacity: 600grams (20oz) of contamination.
OC50 Centrifuge with mounting plate and control valve: Price TBA
Centrifuge Model OPS-50
Cleaning Rate 7 Litres per minute (1.8 Gpm) or 420 Litres per hour (108 Gph)
Measures 305mm (12") wide by 1067mm (42") tall and 406mm (16") deep to stand next to a 200Litre (55 gallon) drum.
Rotor holding capacity: 600grams (20 oz) of contamination.
Pump and Motor Features: 100 PSI maximum continuous pressure, all-bronze construction, bronze gears with stainless steel shafts and mechanical seal. Motor is 1/3 hp USA manufactured carbonator-mount motor, 240V-50Hz-1 phase, 1480 rpm, open, drip-proof enclosure, automatic thermal overload protection.
Frame is 12 gage steel fully formed structure with only two weld joints and polyester powder coating
Includes a 1500 watt band heater – 240Vac 200 Litre (55 gallon) drum heater for all centrifuges 1500 watt – 240 volt power supply
Maximum Operating Temperature of the pump is 90 Deg C ( 210 degrees F)PRICE TBA
Vegetable Oil, Biodiesel and Waste Motor Oil Purification, De-watering and Polishing. To clean used engine oil, Biodiesel and WVO, waste vegetable oil without disposable filters.
Why Dieselcraft Centrifuges?
5 Year Warranty
All nickel plated internal parts to save the centrifuge from corrosive waste vegetable oils
Complete control valve with pressure gauge and bypass valve
Universal aluminum mounting plate for easy 55 gallon drum mounting
Proven performance to remove contamination to less than 1 micron in size
DIESELCRAFT OC50 Centrifuge
Print Friendly