Blowers & Exhausters
Multi-stage Centrifugal Blowers | Exhausters
Rugged and reliable, Interfil multi-stage centrifugal blowers provide an economical solution to many applications. Constructed from all heavy cast alloy incorporating precision machined statically balance impellers. The centrifugal blowers can be supplied in single stage to 5 stages depending on the duty required. Suitable for applications of required pressures up to 30Kpa. They are low in noise, less than 80db and are equipped with oil free out-rigger bearings for easy reliable maintenance.
Being Australian designed and manufactured the Interfil centrifugal blower blows other competitors out of the water.
Features
Heavy duty Multi stage centrifugal blower / exhauster
Efficient design for low power consumption
Light weight construction
Body constructed from 10mm cast alloy
Each impeller manufactured from heavy cast alloy, precision machined, statically balanced and
keyed to grade 4140 shafting. The whole impeller assembly then dynamically balanced for long
durable life. Impellers and internals can be coated for protection against more aggressive materials.
Pressures generated up to 30Kpa and maximum airflow of 2000M3/hr
Vacuums generated up to 25Kpa and maximum airflow of 2500M3/hr
Direct driven or v-belt drive for increased performance
Fully guaranteed with 12 months warranty.
Australian designed and manufactured.
Specifications
Product Specifications
Brochure
interfil ia2 specifications
Materials of Construction
Casing
Inlet / Outlet Head
Material: Cast Aluminium
Dimensions: 10mm wall thickness
Flange: 100 N.B. Table E
Intermediate
Sections
Material: 6mm Cast Aluminium
Intermediate Spacers
Material: 3mm 304 S.S.
Impeller
Material: Cast Aluminium
Dimensions: 525mm dia
Shaft
Material: 4140
Dimensions: 40mm dia
Key Steel: 12mm x 8mm
Model

Stages

F

IA2-1

IA2-2

IA2-3

IA2-4

IA2-5

1

2

3

4

5

190mm

270mm

350mm

430mm

510mm
---
interfil ia3 specifications
Materials of Construction

Casing
Inlet / Outlet Head
Material: Cast Aluminium
Dimensions: 10mm wall thickness
Flange: 150 N.B. Table E

Intermediate
Sections
Material: 6mm Cast Aluminium
Intermediate Spacers
Material: 3mm 304 S.S.
Impeller
Material: Cast Aluminium
Dimensions: 605mm dia
Shaft
Material: 4140
Dimensions: 45mm dia
Key Steel: 14mm x 9mm
Model

Stages

F

IA3-1

IA3-2

IA3-3

IA3-4

IA3-5

1

2

3

4

5

273mm

387mm

500mm

615mm

729mm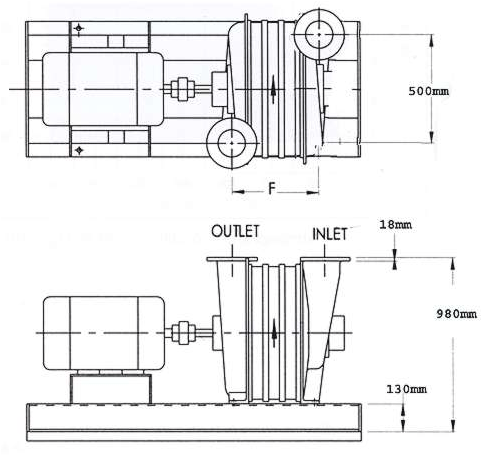 Share this on: